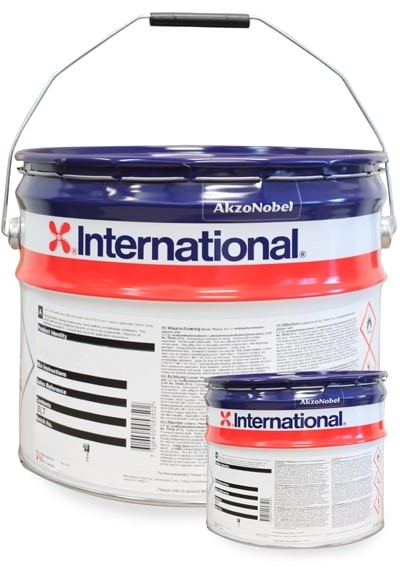 Inhalt:
20 Liter (20,25 € * / 1 Liter)
inkl. MwSt. zzgl. Versandkosten
Sofort versandfertig, Lieferzeit ca. 1-3 Werktage
Intercure® 99 polyaspartic technology is applied as a single coat at 150-250 microns (6-10...
mehr
Produktinformationen "International, Intercure 99"
Intercure® 99 polyaspartic technology is applied as a single coat at 150-250 microns (6-10 mils) direct-to-metal using standard application equipment, reducing application time and labour costs compared to two coat applications in moderately corrosive environments (up to C3, ISO 12944-2).

Intercure 99 is a low VOC, high solids, rapid cure primer/finish, offering excellent anticorrosive protection and long term colour and gloss durability – a combination that cannot be achieved with alternative fast cure, single coat primer finishes.

Intercure 99 may also be specified as a high build, durable intermediate/finish over approved anti-corrosive primers for more aggressive environments, i.e. ISO 12944 C4 and C5M.
Intended Uses
Intercure 99 is intended for use as a single coat high performance finish. For structural steel applications, a reduced number of coats aids in yard throughput and productivity. Rapid cure and early handling properties make it ideal for applications such as wind towers, transformers, mining equipment and pumps where productivity and drying space are of prime importance.
Produktdaten


Colour

Wide range of colours available

Gloss Level

Gloss

Volume Solids

80% ± 3% (depends on colour)

Typical Thickness

150-250 microns (6-10 mils) dry equivalent to188-313 microns (7.5-12.5 mils) wet

Theoretical Coverage
4.57 m²/litre at 175 microns d.f.t and stated volume solids

Practical Coverage

Allow appropriate loss factors

Method of Application

Airless Spray, Air Spray

Regulatory Data
Flash Point
Part A 50 °C
Part B 158 °C
Mixed 51 °C
Product Weight

1.39 kg/l (11.6 lb/gal)

VOC-EU

165 g/kg¹

¹ EU Solvent Emissions Directive (Council Directive 1999/13/EC)
Drying Time



| | | | | |
| --- | --- | --- | --- | --- |
| Surface Temperature | 5 °C | 15 °C | 25 °C | 40 °C |
| Touch Dry | 4 hrs | 3 hrs | 2 hrs | 1 hr |
| Hard Dry | 1.5 d | 1 d | 18 hrs | 12 hrs |
| Overcoating Interval, Minimum | 1 d | 18 hrs | 12 hrs | 6 hrs |
Surface Preparation
All surfaces to be coated should be clean, dry and free from contamination. Prior to paint application all surfaces should be assessed and treated in accordance with ISO 8504:2000.

Oil or grease should be removed in accordance with SSPC-SP1 solvent cleaning.
Abrasive Blast:
Abrasive blast clean to Sa2½ (ISO 8501-1:2007) or SSPC-SP6. If oxidation has occurred between blasting and application of Intercure 99, the surface should be reblasted to the specified visual standard.

Surface defects revealed by the blast cleaning process should be ground, filled, or treated in the appropriate manner.

A surface profile of 50-75 microns (2-3 mils) is recommended.
Primed Surfaces:
Intercure 99 may be applied over approved anti-corrosive primers in some circumstances; please consult International Protective Coatings for further advice.
Application


Mixing
Material is supplied in two containers as a unit. Always mix a complete unit in the proportions supplied. Once the unit has been mixed it must be used within the working pot life specified.
(1) Agitate Base (Part A) with a power agitator.
(2) Combine entire contents of Curing Agent (Part B) with Base(Part A) and mix thoroughly with power agitator.
Mix Ratio

4 part(s) : 1 part(s) by volume

Working Pot Life
5 °C - 2 hrs
15 °C - 1.5 hrs
25 °C - 45 mins
40 °C - 45 mins
Airless Spray
Recommended
Tip Range 0.38-0.48 mm (15-19 thou)
Total output fluid pressure at spray tip not less than 176 kg/cm² (2503 p.s.i.)
Air Spray (Pressure Pot)
Recommended
Gun: DeVilbiss MBC oder JGA
Air Cap: 704 oder 765
Fluid Tip: E
Air Spray (Conventional)
Suitable
Use suitable proprietary equipment
Brush
Suitable - Small areas only
Typically 75-125 microns (3.0-5.0 mils) can be achieved
Roller

Suitable - Small areas only

Thinner
International GTA713
International GTA056
Do not thin more than allowed by local environmental legislation. Do not use alternative thinners.
Cleaner
International GTA713
International GTA056
Do not use alternative cleaners.
Work Stoppages

Do not allow material to remain in hoses, gun or spray equipment. Thoroughly flush all equipment with International GTA713. Once units of paint have been mixed they should not be resealed and it is advised that after prolonged stoppages work recommences with freshly mixed units.

Clean Up
Clean all equipment immediately after use with International GTA713. It is good working practice to periodically flush out spray equipment during the course of the working day. Frequency of cleaning will depend upon amount sprayed, temperature and elapsed time, including any delays.

All surplus materials and empty containers should be disposed of in accordance with appropriate regional regulations/legislation.
Product Characteristics
The detailed Intercure 99 Application Guidelines should be consulted prior to use.
During the spray application of Intercure 99 at high relative humidity (>85%), a reduction in the quoted pot life time of the mixed material may occur. This can be resolved by placing sufficient solvent to cover the surface of the material in the can. The addition of approx 100 mls of GTA713 or GTA056 per 20 litre mixed unit should suffice.
Level of sheen and surface finish are dependent on application method. Avoid using a mixture of application methods whenever possible.
For tinted colours, a 5 minute induction time is recommended to fully develop colour. Failure to allow induction, particularly at low temperatures, may result in inconsistency of the finished shade.
Maximum film build in one coat is best attained by airless spray. When applying by methods other than airless spray, the required film build is unlikely to be achieved. Application by air spray may require a multiple cross spray pattern to attain maximum film build. Low or high temperatures may require specific application techniques to achieve maximum film build.
When applying Intercure 99 by brush or roller, it may be necessary to apply multiple coats to achieve the total specified system dry film thickness.
Care should be exercised to avoid application in excess of 350 microns (14 mils) dry film thickness.
Application at excessively high relative humidity, or under conditions where condensation is likely to occur, may result in immediate or premature loss of gloss. It is recommended that relative humidity should not exceed 85% during application and cure.
Surface temperature must always be a minimum of 3°C (5°F) above dew point. Application at humidities greater than 50% may result in faster drying times.
When applying Intercure 99 in confined spaces ensure adequate ventilation.
Intercure 99 is not designed for continuous water immersion.
As with other fast dry coating systems care should be taken to prevent overspray contamination of previously coated work pieces.
Overcoating Interval:
Intercure 99 produces a hard, glossy film and maximum overcoating interval will be 24 hours. Repair areas should be abraded to include an overlap of sound coating or back to a natural break if aesthetics are of primary importance. Care should be taken to confine touch-up application to prepared areas only.
Note:
VOC values are typical and are provided for guidance purpose only. These may be subject to variation depending on factors such as differences in colour and normal manufacturing tolerances.
Systems Compatibility
The following primers/intermediates are recommended for Interfine 2080:
• Intergard 343
• Intergard 361
• Intergard 787
• Intershield 300
Interfine 2080 should only be topcoated with itself, or Interfine 878

For other suitable primers/intermediates, consult International Protective Coatings.
Additional Information
Further information regarding industry standards, terms and abbreviations used in this data sheet can be found in the following documents available at www.international-pc.com.
Safety Precautions
Intercure 99 may be applied direct to metal for atmospheric exposure in environments up to and including C3 (as defined in ISO12944 Part 2). When using Intercure 99 in atmospheric environments classed as C4 or C5, a recommended primer must be used.
Please consult International Protective Coatings for the latest technical advice.
Pack Sizes (Typical)



| | | |
| --- | --- | --- |
| | Volume (Liters) | Pack Sizes (Liters) |
| Intercure® 99 Part A | 16 | 20 |
| Intercure® 99 Part B | 4 | 5 |
Storage
Lifetime at 25 °C
Minimum 12 Month(s)
Subject to re-inspection thereafter. Store in dry, shaded conditions away from sources of heat and ignition.
Diese Angaben stammen aus dem offiziellen Technischen Datenblatt von dem Lackhersteller. Wir übernehmen keine Gewährleistung für die Richtigkeit / fehlerhafte Angaben.
Wir bitten Sie, sich ausschließlich ans Technische Datenblatt des Herstellers zu halten, welches Sie weiter unten als PDF-Download finden.
All information were taken out of the Technical Data Sheet provided by the manufacturer. We don't garantuee the correctness of any information.
Please adhere solely to the Technical Data Sheet provided by the manufacturer which you can download as a PDF-File further below.
Weiterführende Links zu "International, Intercure 99"
Bewertungen lesen, schreiben und diskutieren...
mehr
Kundenbewertungen für "International, Intercure 99"
Bewertung schreiben
Bewertungen werden nach Überprüfung freigeschaltet.