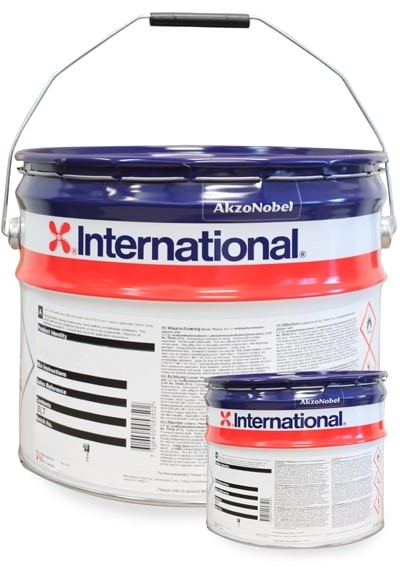 Inhalt:
20 Kilogramm (18,00 € * / 1 Kilogramm)
inkl. MwSt. zzgl. Versandkosten
Sofort versandfertig, Lieferzeit ca. 1-3 Werktage
Interchar® 212 is a high performance, high build, solvent free, two pack modified epoxy...
mehr
Produktinformationen "International, Interchar 212"
Interchar® 212 is a high performance, high build, solvent free, two pack modified epoxy intumescent fireproofing coating designed to be used on steelwork requiring protection from cellulosic fires.

Independently fire tested. Recognised by FM Approvals as a Specification Tested Product in accordance with ASTM E119. Also tested in accordance with UL 263 (exterior listed), BS 476 Parts 20-22, GOST (Russia), ENV 13381 Pt 4, Australian Standard AS1530.4 (1997) and Korean Standard F 2257.

Typically applied off site by specialist applicators Interchar 212 will achieve the required fire protection thickness in only one or two coats. The product has excellent corrosion performance and mechanical properties. Interchar 212 can provide fully fire proofed steelwork without the need to topcoat.

Interchar 212 is primarily a spray applied material, and performs without the requirement for any reinforcement.
Intended Uses
To assist in preserving the structural integrity of steelwork in a cellulosic fire. Typical structures requiring this protection include a number of public access buildings e.g. Airport Terminals, Leisure Facilities, Convention Centres, Educational Facilities, Shopping Malls, Industrial Complexes and Hotels.

Interchar 212 utilises tough durable epoxy technology to provide a material that allows for steelwork to be fabricated and fire protected away from the construction site which helps in both improving quality control and reducing construction schedules.
Product data


Colour

Medium Grey

Gloss Level

Matt Textured Finish

Volume Solids

100%

Typical Thickness

3.5 mm (0.14 inches) - varies depending on protection required.

Theoretical Coverage

1 kg of Interchar 212 will provide 1 mm of fire protection to 1 m² (based on plural component application)

Practical Coverage

Allow appropriate loss factors

Method of Application

Hot twin feed airless spray (Plural Component) or modified single feed machine

Regulatory Data
Flash Point
Part A >106 °C
Part B >106 °C
Mixed >106 °C
Product Weight

1 kg/l (8.3 lb/gal) (Plural component airless spray)

VOC-EU
2 g/kg¹
0.09 lb/gal (11 g/lt)²

¹ EU Solvent Emissions Directive (Council Directive 1999/13/EC)
² EPA Method 24
Drying Time



| | | | | |
| --- | --- | --- | --- | --- |
| Surface Temperature | 10 °C | 15 °C | 25 °C | 40 °C |
| Touch Dry | 16 hrs | 8 hrs | 5 hrs | 2 hrs |
| Hard Dry | 24 hrs | 16 hrs | 12 hrs | 6 hrs |
| Overcoating Interval, Minimum | 24 hrs | 24 hrs | 12 hrs | 8 hrs |
Surface Preparation
All surfaces to be coated should be clean, dry and free from contamination. Prior to paint application all surfaces should be assessed and treated in accordance with ISO 8504:2000.
Steel surfaces must be abrasively blast cleaned and an approved priming system applied. Blast cleaning should be carried out in accordance with the requirements on the primer technical data sheet. The general requirement is blast cleaning, to Sa2½ (ISO 8501-1:2007) or SSPCSP6 to be carried out, with a sharp angular profile being obtained. The blast profile should be a minimum of 50 microns (2 mils) for steel substrates. Primer selection is based upon the final environment to which the fire protection system will be exposed.
Interchar 212 is also suitable for application to galvanised steel substrates. Surfaces should be prepared by sweep abrasive blasting to provide a roughened surface, to a standard similar to Sa 1 (ISO 8501-1), SSPC-SP7 or NACE No. 4. Typically a profile of 15-25 microns (0.6-1.0 mils) is achieved by sweep blasting. An approved primer should be applied after sweep blasting.
Application


Mixing
If applying Interchar 212 by modified single feed airless spray pump or trowel, it will first be necessary to thoroughly power mix a kit of Interchar 212. Individual components must have been stored for 24 hours at 21 - 27°C (70 - 80°F) and fully power agitated before mixing.

For plural component spray application, both components must be maintained at a temperature of 30-34ºC (86-93ºF) for 24 hours (maximum 48 hours) prior to use.
Mix Ratio

2.49 part(s) : 1 part(s) by weight. Always mix full units.

Working Pot Life
15 °C - 2 hrs
25 °C - 1.5 hrs
Plural Component Airless Spray
Recommended
Heated plural equipment approved by International Paint
Airless Spray

Suitable

Trowel

Suitable - small areas only

Thinner
International GTA123
International GTA822
International GTA853
Only for pre-mix and trowel application - consult Application Guidelines
Cleaner

International GTA822

Work Stoppages

Do not allow material to remain in hoses, gun or spray equipment. Thoroughly flush all equipment with International GTA822.

Clean Up
Clean all equipment immediately after use with International GTA822. It is good working practice to periodically flush out spray equipment during the course of the working day. Frequency of cleaning will depend upon amount sprayed, temperature and elapsed time, including any delays.

All surplus materials and empty containers should be disposed of in accordance with appropriate regional regulations/legislation.
Product Characteristics
The detailed Application Guidelines for Interchar epoxy coatings must be consulted prior to use. In addition it is mandatory that you make contact with International Paint to ensure that, if required, a training programme can be initiated in the application and use of this material. The Guidelines provide additional information about Interchar 212 and should be used together with the technical data sheet.
International Paint highly recommends the use of plural component equipment for Interchar 212. Alternative application methods such as modified airless spray can lead to increased usage and wastage compared to that associated with plural component methods.
When applying Interchar 212 in confined spaces ensure adequate ventilation.
The final surface finish is dependent on application method. Avoid using a mixture of application methods whenever possible.
Do not apply at steel temperatures below 5°C (41°F). This product will not cure adequately below 5° C (41°F). For maximum performance ambient curing temperatures should be above 10°C (50°F). Surface temperature must always be a minimum of 3°C (5°F) above dew point.
In common with all epoxies Interchar 212 will chalk and discolour on exterior exposure. These phenomena are not detrimental to fire proofing performance. Where a durable cosmetic finish with good gloss and colour retention is required overcoat with recommended topcoats.
Where multi-coat systems are to be used, optimum intercoat adhesion is best achieved by keeping the overcoating interval as short as possible.
Due to the high build nature of this material it may be necessary to roller areas to achieve the desired cosmetic finish.
Interchar 212 certified in accordance with the following standards:
• BS 476 parts 20-22:1987 UK - Approved up to 2 hours
• GOST Russia - Approved up to 2 hours
• UL 263 (exterior listed) USA - Approved up to 3 hours
• Factory Mutual (report ID 3028782)
• ENV 13381 Part 4 - Mainland Europe, approved up to 2 hours
• Korean Standard F 2257 - Approved up to 2 hours
Recognized by FM Approvals as a Specification Tested Product in accordance with ASTM E119.
Note:
VOC values are typical and are provided for guidance purpose only. These may be subject to variation depending on factors such as differences in colour and normal manufacturing tolerances.
Low molecular weight reactive additives, which will form part of the film during normal ambient cure conditions, will also affect VOC values determined using EPA Method 24.
Systems Compatibility
Interchar 212 has been tested as part of a coating system for use in fire situations in combination with a wide range of primers and topcoats.
The following primers are approved for use with Interchar 212:
• Intercure 200
• Intercure 200HS
• Intergard 251
• Intergard 251HS
• Intergard 2575
• Intergard 269
• Interseal 1052
The following topcoats are approved for use with Interchar 212:
• Interfine 878
• Interfine 979
• Interthane 870
• Interthane 990
• Interthane 990SG
Additional Information
Further information regarding industry standards, terms and abbreviations used in this data sheet can be found in the documents available at www.international-pc.com:
• Definitions & Abbreviations
• Surface Preparation
• Paint Application
• Theoretical & Practical Coverage
• Ceilcote 2000 Flakeline Application Guidelines
Safety Precautions
This product is intended for use only by professional applicators in industrial situations.All work involving the application and use of this product should be performed in compliance with all relevant national Health, Safety and Environmental standards, regulations and legislation.
All work involving the application and use of this product should be performed in compliance with all relevant national, Health, Safety & Environmental standards and regulations.
In the event welding or flame cutting is performed on metal coated with this product, dust and fumes will be emitted which will require the use of appropriate personal protective equipment and adequate local exhaust ventilation.
If in doubt regarding the suitability of use of this product, consult International Protective Coatings for further advice.
Pack Sizes (Typical)



| | | |
| --- | --- | --- |
| | Volume (Kilograms) | Pack Sizes (Liters) |
| Interchar® 212 Part A | 14.2 | 20 |
| Interchar® 212 Part B | 5.8 | 6 |
Storage
Lifetime at 25 °C
Minimum 12 Month(s)
Subject to re-inspection thereafter. Store in dry, shaded conditions away from sources of heat and ignition.
Diese Angaben stammen aus dem offiziellen Technischen Datenblatt von dem Lackhersteller. Wir übernehmen keine Gewährleistung für die Richtigkeit / fehlerhafte Angaben.
Wir bitten Sie, sich ausschließlich ans Technische Datenblatt des Herstellers zu halten, welches Sie weiter unten als PDF-Download finden.
All information were taken out of the Technical Data Sheet provided by the manufacturer. We don't garantuee the correctness of any information.
Please adhere solely to the Technical Data Sheet provided by the manufacturer which you can download as a PDF-File further below.
Weiterführende Links zu "International, Interchar 212"
Bewertungen lesen, schreiben und diskutieren...
mehr
Kundenbewertungen für "International, Interchar 212"
Bewertung schreiben
Bewertungen werden nach Überprüfung freigeschaltet.