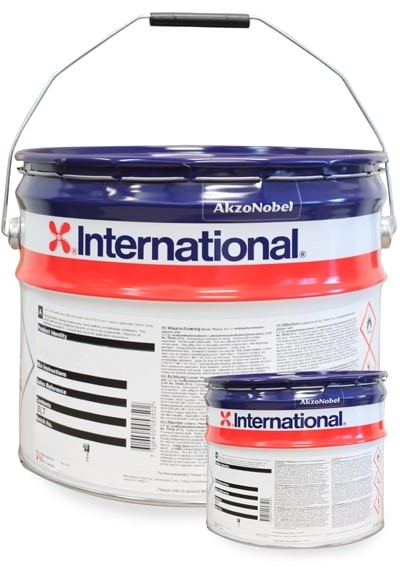 Inhalt:
3 Kilogramm (40,00 € * / 1 Kilogramm)
inkl. MwSt. zzgl. Versandkosten
Sofort versandfertig, Lieferzeit ca. 1-3 Werktage
Interchar® 2200 is a single pack, high solids, low VOC intumescent filler. ...
mehr
Produktinformationen "International, Interchar 2200"
Interchar® 2200 is a single pack, high solids, low VOC intumescent filler.
Intended Uses
Designed for repairing small areas of mechanically damaged single pack Interchar intumescent coatings.
Product data


Colour

White

Gloss Level

Matt

Volume Solids

85% ± 3%

Typical Thickness
1000-2000 microns (40-80 mils) dry equivalent to
1176-2353 microns (47-94.1 mils) wet per coat
Theoretical Coverage

0.60 m²/litre at 1500 microns d.f.t and stated volume solids

Practical Coverage

Allow appropriate loss factors

Method of Application

Trowel, Knife

Regulatory Data
Flash Point

26 °C

Product Weight

1.45 kg/l (12.1 lb/gal)

VOC-EU

163 g/kg¹

¹ EU Solvent Emissions Directive (Council Directive 1999/13/EC)
Drying Time



| | | | | |
| --- | --- | --- | --- | --- |
| Surface Temperature | 10 °C | 15 °C | 25 °C | 40 °C |
| Touch Dry | 1 hr | 1 hr | 1 hr | 1 hr |
| Hard Dry | 3 d | 2.5 d | 2 d | 1 d |
| Overcoating Interval, Minimum¹ | 1 d | 1 d | 1 d | 1 d |

¹ Interchar 2200 can be over-coated with recommended topcoats after 24 hours.
All drying time data has been quoted at typical thickness of 1mm DFT. At higher DFT drying times will be longer.
Surface Preparation
Remove all loose and damaged Interchar Intumescent coating back to a sound edge.
Any damage to the primed substrate should be repaired with re-priming as necessary with an approved primer prior to application of Interchar 2200
All surfaces to be coated should be clean, dry and free from contamination immediately prior to application.
Application



| | |
| --- | --- |
| Mixing | Remove membrane on surface and mix filler thoroughly before use. |
| Airless Spray | Not recommended |
| Brush | Not recommended |
| Roller | Not recommended |
| Trowel | Recommended |
| Thinner | Not required. |
| Cleaner | International GTA007 |
| Work Stoppages | All unused material should be stored in tightly closed containers. Partially filled used containers may show surface skinning and/or a viscosity increase of the material after storage. Replace membrane to reduce surface skinning. |
| Clean Up | Clean all equipment immediately after use with International GTA007. All surplus materials and empty containers should be disposed of in accordance with appropriate regional regulations/legislation. |
Product Characteristics
The detailed Interchar 2200 Application Guidelines should be consulted prior to use.
Interchar 2200 is suitable for repair of both water-based and solvent-based single-pack Interchar intumescent products.
For optimum drying properties when applying Interchar 2200 at dry film thicknesses above 1mm (40 mils), it is recommended that multi coats are applied, observing the minimum overcoating times between coats. It is possible to apply Interchar 2200 at up to 2mm (80 mils) in a single coat; however, hardness development and drying/handling times will be longer.
For optimum application and drying characteristics, the air and substrate temperature should be greater than 5ºC (41ºF) and relative humidity less than 85%. Surface temperature must always be a minimum of 3°C (5°F) above dew point.
When applying Interchar 2200 in confined spaces ensure adequate ventilation.
Interchar 2200 (whether topcoated or not) should be protected from pooling or running water and is not designed for frequent water immersion or soaking.
Drying times varies with different thicknesses. For more Details please consult the Technical Data Sheet or International Protective Coatings.
Note:
VOC values are typical and are provided for guidance purpose only. These may be subject to variation depending on factors such as differences in colour and normal manufacturing tolerances.
Systems Compatibility
The following primers are approved for use with Interchar 2200:
• Intercure 200
• Intercure 200HS
• Intergard 251
• Intergard 269
• Interprime 306
• Interseal 670HS
• Interzinc 42
• Interzinc 52
The following topcoats are approved for use with Interchar 2200:
• Intercryl 525
• Interfine 878
• Intersheen 54
• Intersheen 579
• Interthane 870
• Interthane 990
Where a polysiloxane topcoat is envisaged, application of a tie coat, for example Intergard 269 over the Interchar 2200 will be necessary; please consult the Interchar 2200 Application Guidelines for further information.
Note : In environmental exposure conditions other than internal, dry as per ISO 12944 Part 2, C1 classification, Interchar 2200 must always be suitably topcoated. Consult International Protective Coatings for more details.
Additional Information
Further information regarding industry standards, terms and abbreviations used in this data sheet can be found in the documents available at www.international-pc.com:
• Definitions & Abbreviations
• Surface Preparation
• Paint Application
• Theoretical & Practical Coverage
• Ceilcote 2000 Flakeline Application Guidelines
Safety Precautions
This product is intended for use only by professional applicators in industrial situations.All work involving the application and use of this product should be performed in compliance with all relevant national Health, Safety and Environmental standards, regulations and legislation.
Proper ventilation must be provided during application and afterwards during curing (refer to product datasheets for typical curing times) to ensure safe limits and prevent fires and explosions. Forced extraction will be required in confined spaces. Ventilation and/or respiratory personal protective equipment (airfed hoods or appropriate cartridge masks) must be provided during application and curing. Take precautions to avoid skin and eye contact (overalls, gloves, goggles, masks, barrier cream, etc).
Before use, obtain, read and then follow the advice given on the Material Safety Data Sheets (Parts A and B if two-pack) and the Health and Safety section of the Coatings Applications Procedures for this product.
In the event that welding or flame cutting is performed on metal coated with this product, dust and fumes will be emitted which will require the use of appropriate personal protective equipment and adequate local exhaust ventilation.
The detailed safety measures are dependent on application methods and the work environment. If you do not fully understand these warnings and instructions or if you cannot strictly comply with them, do not use the product and consult International Protective Coatings.
Pack Sizes (Typical)



| | | |
| --- | --- | --- |
| | Volume | Pack Sizes |
| Interchar® 2200 | 3.21 kg | 2.5 liters |
Storage
Lifetime at 25 °C
Minimum 12 Month(s)
Subject to re-inspection thereafter. Store in dry, shaded conditions away from sources of heat and ignition.
Diese Angaben stammen aus dem offiziellen Technischen Datenblatt von dem Lackhersteller. Wir übernehmen keine Gewährleistung für die Richtigkeit / fehlerhafte Angaben.
Wir bitten Sie, sich ausschließlich ans Technische Datenblatt des Herstellers zu halten, welches Sie weiter unten als PDF-Download finden.
All information were taken out of the Technical Data Sheet provided by the manufacturer. We don't garantuee the correctness of any information.
Please adhere solely to the Technical Data Sheet provided by the manufacturer which you can download as a PDF-File further below.
Weiterführende Links zu "International, Interchar 2200"
Verfügbare Downloads:
Bewertungen lesen, schreiben und diskutieren...
mehr
Kundenbewertungen für "International, Interchar 2200"
Bewertung schreiben
Bewertungen werden nach Überprüfung freigeschaltet.